Blueseed's Rigel CDP Creates Premium Data Driven Audiences for Auto, Real-Estate and Construction/Manufacturing Industries – More Coming!

Rigel CDP is Blueseed's own data platform developed to gather data from diverse sources enabling targeting specific audiences with highly relevant content. With this smarter approach we're able to achieve objectives like lead generation, cross-selling and up-selling to existing customers and precise targeting to deliver the most efficient results possible. The Adtech and Datatech arm of Blueseed Group which includes Rigel, was launched in 2018. The most prominent projects to achieve new levels of success include client names like Bluescope Australia and Mitsubishi Motors.

How does it work?

Rigel was specifically developed to combine data from multiple sources to a single source of truth. Some of the touchpoints we cover include transactional data, campaign behavior and interaction, online activity for example on site engagement, specific content viewed on site as well as engagements across social media and responses to specific campaigns.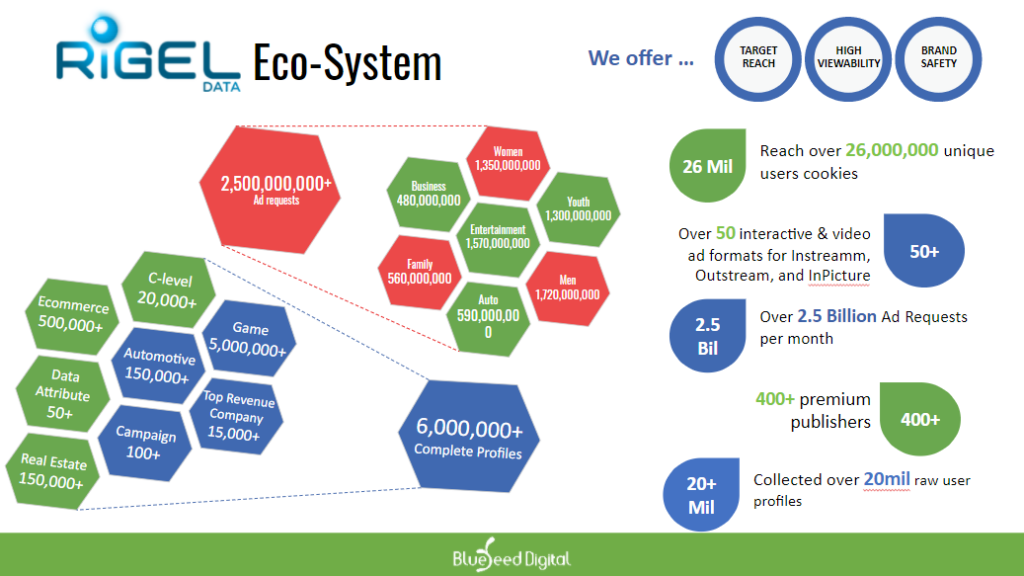 Riegel CDP modules focus on:
Data Collection and Synchronization
Data Warehouse
Data Transformation
Business Intelligence
Activation (Custom Audience Data)
The cornerstone of driving value from all this data is creating a unique individual customer profile. Rigel CDP's Data Warehouse currently holds over 20 million raw customer profiles with data attributes collected from many sources including behavioral, identity and personal data. As Rigel is an in house platform this can use specific information on a custom basis for various applications enabling us to delivery timely messaging across all channels bringing unmatched relevancy and campaign performance. Our data is enriched with descriptive data such as career information, lifestyle factors like hobbies and info and specific info from surveys. Rigel aggregates all this data creating a rich profile of the individual customer or a single customer view. Effectively we're able to communicate in a 1-to-1 manner but at large scale across all touchpoints.

Data Transformation sees several data modelling layers applied across the data warehouse turning raw data into analytics ready and discoverable insights which can be utilized to create specific Custom Audiences.


Rigel's Business Intelligence engine utilizes more than 50 key attributes to prepare very precise Custom Audiences that can be routed to downstream marketing platforms and delivered across touchpoints to highly relevant target audiences.

Rigel has been successfully deployed in Auto, Real-Estate and Construction/Manufacturing industry campaigns. Currently the qualified target audience profiles for specific industries include approximately:
– Auto: 150,000 profiles
– Real-Estate: 150,000 profiles
– C-Level: 20,000 profiles

Next steps are to continue growing the scale of our audiences for these industries while expanding to Healthcare Providers (HCP) , Health and High Net Worth Individuals:

– HCP Audiences offer the most comprehensive coverage of healthcare providers, with unparalleled selectivity – professionals that influence decisions regarding pharmaceuticals, insurance, medical supplies and more.
– Health Audiences enable marketers to reach individuals based on specific medical ailment propensities, health/wellness lifestyle data and prevention indicators. Plus, it's 100% HIPAA compliant protecting sensitive patient health information.
– HNWI Audiences goes beyond mere demographics and models to deliver people of means based on 3 key individual attributes: professional positions held, possessions owned and passions of Vietnam's most affluent. This highly sought after audience presents the highest spending propensity in Vietnam and demand for high-end and luxury items.
Rigel excels by combining Blueseed Consumer or Business Data with a marketer's 1st Party Data, Blueseed can create almost any custom audience to deliver previously impossible relevance at scale.