Fantastic news within the Blueseed Group to close out 2021 as Greenoly has been named as a winner of the SME100. Greenoly was founded in 2020 as a vertical online retailer focused on vitamins and health supplements predominantly imported from Australia and Europe.
Mr. Nguyen Tan Ho, CEO of Greenoly explained Greenoly's market positioning as follows: "Powered by the rising middle class and rapid urbanization, E-commerce is well-positioned to be the significant driver of the next chapter of Vietnam's consumption story. As the middle class grows, following increased globalization and urbanization, lifestyles tend to undergo changes, which will bring about shifts in consumer habits and priorities. As part of this shift, increasing disposable incomes allow consumers to invest in premium imported food and supplement products with a specific focus on improving health, highest quality, and safety compared to domestic products. The rise of a younger, wealthier, and better educated middle class in Vietnam is transforming the health supplement industry of which Greenoly stands to be a key player."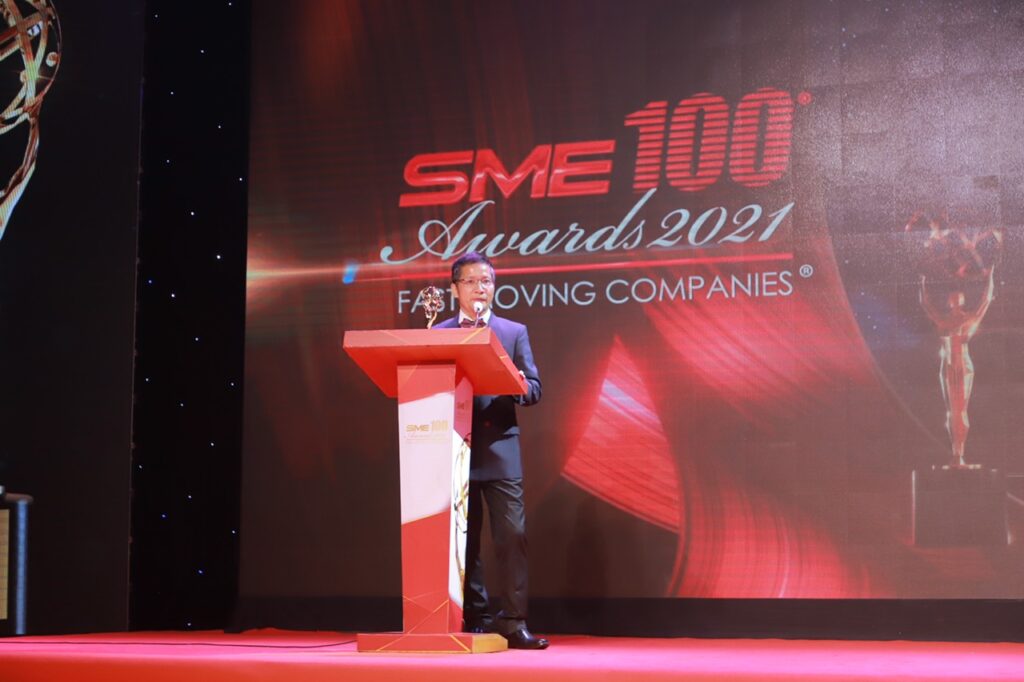 In 2021 the Blueseed Group made a sizable investment in Greenoly and began the transformation of the business model from an online retailer to martech retail platform. 2021 was a difficult year for many Vietnamese companies due to ongoing lockdowns and pandemic limitations severely impacting supply chains and logistics. This backdrop tested the Greenoly team to its limits.

Following the challenges surpassing more than 200 companies to reach the final list of 32 excellent Vietnamese companies winning the 2021 SME100 Asia award was highly welcomed news. With the prestigious award, Greenoly has affirmed its position in the Vietnamese market and has become the first e-commerce channel to distribute vitamins, functional foods, and health products.

The SME100 awards were open to thousands of Small & Medium Enterprises (SMEs) in Vietnam. Eligibility was based on the following criteria:
A homegrown locally incorporated company with at least 30% local equity;
A minimum annual turnover of over VND b billion (for services companies) or VND 12 billion (for manufacturing and trading companies).
As stated on the awards website www.sme100.asia – "The SME100 Awards ceremony crowns the fastest, most successful, and trustworthy SMEs in the region. All of our winners are carefully selected into a solid business community of SMEs in Malaysia, Singapore, Indonesia, and now in Vietnam." The list of the final 32 winners, was decided under strict qualification criteria, both quantitative and qualitative.
Ms. Nga Nguyen, Chairwoman of Blueseed Group and the decision-maker behind the strategic investment in Greenoly spoke after the SME100 Award ceremony and said: "We are very excited to receive our first international award as one of Vietnam's fastest-growing top 100 SMEs in 2021. I would like to dedicate this award to our very young but dynamic and professional management team and to all our employees who have helped us to reach these heights in a very short period of time. Especially during a very difficult year for all companies. I believe that this award will give our team additional energy and motivation to have new great achievements in years to come."

You can read more about the 2021 SME100 Award announcements on the following links:
https://en.prnasia.com/releases/apac/vietnamese-smes-achieve-growth-as-economy-recovers-347390.shtml
https://baotintuc.vn/thong-cao-bao-chi/38-cong-ty-duoc-vinh-danh-tai-le-trao-giai-thuong-sme-100-lan-dau-duoc-to-chuc-o-viet-nam-20201224093033225.htm
https://www.vietnamplus.vn/giai-thuong-sme100-award-vinh-danh-20-doanh-nghiep-vua-va-nho-indonesia-di-dau-trong-tang-toc-phuc-hoi-kinh-te/746606.vnp
https://tieudungonline.vn/greenoly-kenh-thuong-mai-dien-tu-phan-phoi-vitamin-tpcn-dau-tien-tai-viet-nam-thang-giai-sme100-asia-a76148.html
https://tieudungonline.vn/greenoly-kenh-thuong-mai-dien-tu-phan-phoi-vitamin-tpcn-dau-tien-tai-viet-nam-thang-giai-sme100-asia-a76148.html