On Thursday 4th of August 2022 the Blueseed Group and Base.vn held a kickoff event for the Blueseed Group's Digital Transformation. Base.vn is the #1 popular business management platform in Vietnam, being utilized by more than 7,000 businesses in many different fields. The suite of business apps sit across 4 key areas of business operations including Work+ (Work & Performance Management), Info+ (Information Management & Communication), HRM+ (People Management & Development), Finance+ (Financial Management). These single platform tools will help to simplify and align Blueseed Group's working in a single digital space.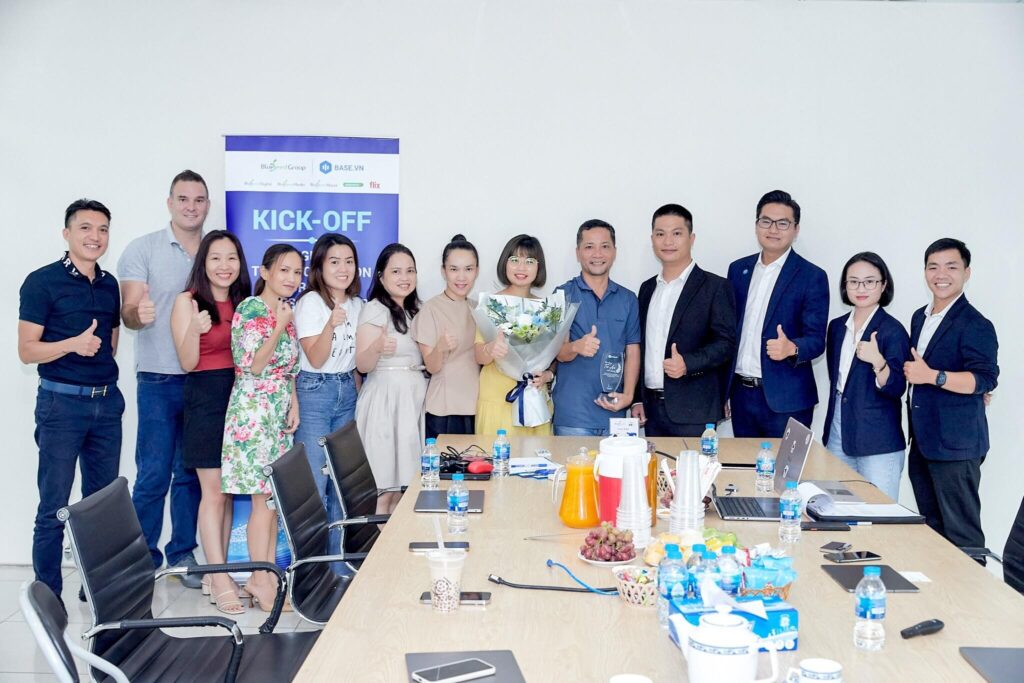 You may be surprised to read the 'Digital Transformation' headline given Blueseed Group is a Digital Marketing group of companies and already operates in the digital space. But in fact with 1,000s of campaigns run per year by more than 100 staff working within 4 subsidiaries Blueseed Group CEO Ho Nguyen sees huge potential in bringing much of the group's administration and operations to the Base.vn platform. "In fact the challenges of Covid highlighted some key challenges and opportunities for our business. While we were lucky to be able to still keep our entire company active and provide uninterrupted service to our clients through lockdowns and isolation periods it highlighted that we were working in several spaces and there is always some level of complexity when working in different spaces whether it's missed messages, difficulties in sharing latest information with relevant stakeholders or other complications."

Of the decision, Blueseed Group HR and Admin Manager Uyen Tran said – "We have been researching solutions for some time and feel that Base.vn offers a wide range of functionality at a high standard to simplify the Blueseed Group's workflow and processes. The fact that, like us, Base.vn is a home grown Vietnamese company and like us has continuously expanded as the digital age evolves over time."
The first part of the session included the following:
– Introduction of the Base.vn team,
– Outline of Blueseed Group's Goals and Orientation by Blueseed Group CEO Ho Nguyen,
– Overview of Base.vn's Commitment (Base.vn Co-Founder & Regional Managing Director Vien Tran) and Solutions (Base.vn Business Consulting Director Nghia Tran),
– Gratitude Session and Photos,

The second part of the session focused on the deployment plan enabling both teams to identify the key people in charge and scope of work.
We look forward to a long and successful partnership with Base.vn enabling Blueseed Group staff to work even more productively and effectively and continue to deliver the best in market services to all our valued clients.