The Digital Summit SEA organised by WR Digital is coming to Vietnam on the 20th and 21st of April 2022.
The only premier summit looks into the future of business from the perspective of a digitally-savvy consumer who fully embraces a complete digital ecosystem – providing deep, engaging customer experiences through to powerful business insights.
The 2-Day Summit focused on competing and meeting customers' expectations with a micro-focus on key pillars in Omnichannel Content & Commerce, Personalization, Artificial Intelligence, Customer Experience, Customer Analytics, Social Media & Brand Management, Ecommerce/Enterprise Marketplace.
The summit is packed with high-caliber speakers of Vietnam's digital players that will surely help to improve the brand's digital prowess.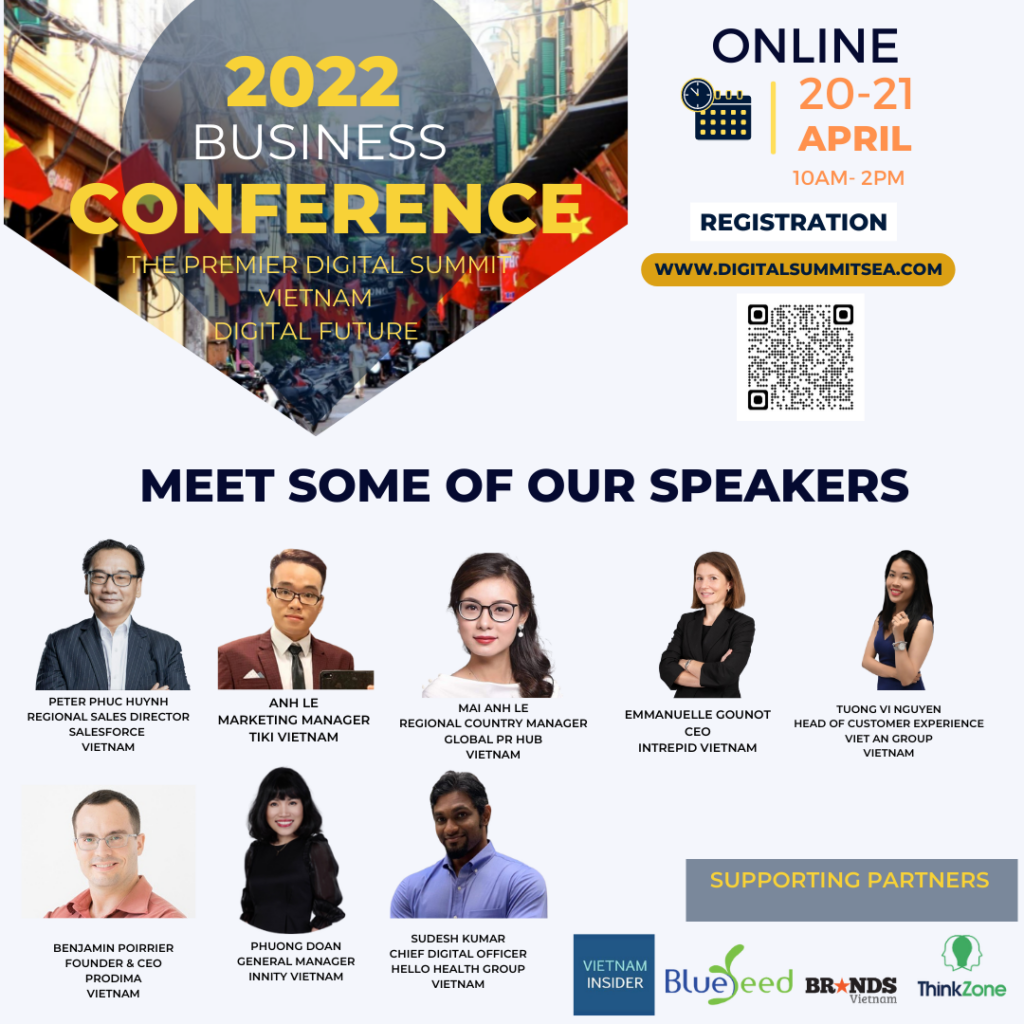 At the Premier Digital Summit Vietnam online focus Covid-19 has accelerated the shift toward digitization for many businesses across the country and the need to create meaningful engagement with consumers in every channel. Developing and serving the right content for the right place and time to increase brand awareness and create a consistent customer experience across channels.
Meet our speakers:
● Anh Le — Marketing Manager, Tiki Vietnam
● Aske Ostergard — Co Founder & CEO, Decision Lab Vietnam
● Bao Hoang Ho — Digital Director, Mediacom Vietnam
● Benjamin Poirrier — Founder & CEO, Prodima Vietnam
● Danny NGO — Head of Digital, Transformation Ingo Vietnam
● Tri (Kannie) Nguyen –Business Director, Phibious Group Vietnam
● Vicky Cao — Growth Manager, Moengage Vietnam
● Emmanuelle Gounot — CEO, Intrepid Vietnam
● Kevin Kien Doan — CEO, Digityze Asia Vietnam
● Khuong Tran — Chief Information Officer, TTC Sugar Vietnam
● Mai Anh Le — Regional Country Manager, Global PR Hub Vietnam
● Nguyen Thi Nhu Ngoc — Senior Marketing Manager, Worldpanel by Kantar Vietnam
● Peter Phuc Huynh — Regional Sales Director, Salesforce Vietnam
● Phi Van Nguyen — Chairwoman, Vietnam Angel Network
● Phuc Anh Do — COuntry Managing Director, Cloud Kinetics
● Rakesh Singh — Country Manager and Commercial Director, APAC Bidmath Vietnam
● Sudesh Kumar — Chief Digital Officer, Hello Health Group Vietnam
● Tuong Vi Nguyen — Head of Customer Experience, Viet an Group Vietnam
Gain insightful knowledge on these hot issues within the industry to upgrade your brand:
● Digital Transformation Journey
● The Future of Omnichannel starts today: Strategies That Will Help you Stay Ahead.
● Conversation with a Brand on personalization + customer experience journey
● Getting Customer Satisfaction Right with AI Analytics
● Monitor customer behavior and analyze customer insights
● How to deliver content-level personalization and ensure customer experience
To attend the summit, register at www.digitalsummitsea.com
Details of the event:
Date: 20th & 21th April 2022
Time: 10.00 am – 2.00 pm
Platform: Online For more information, please contact: [email protected] or [email protected]